What is VITA?
VITA is a literacy agency dedicated to helping you better your reading skills, learn English, or work toward your high school equivalency diploma -- it's about what your goals are and how we can help you achieve them. And did we mention it's free?

How Does It Work?
Our Lafayette program has three parts: classes that meet in the morning, a computer lab that is available mornings and afternoons, and one-on-one tutoring. When you join our program, we begin by placing you in the right classes for your needs. We then try to match you with a volunteer tutor, who will work with you one-on-one for a few hours a week. If you would like to see a current schedule of classes, click here.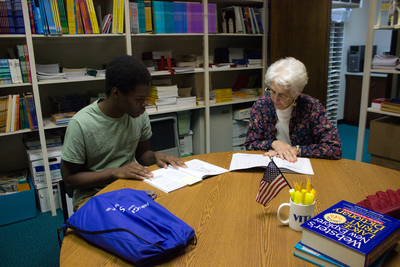 How Do I Become a Student?
To join our Lafayette program, call us at 337-234-4600 to make an appointment. When you come in for your appointment, you will fill out some paperwork and take an assessment. Based on your assessment, we assign you to the appropriate classes. To join our St. Landry Parish program, call us at 337-942-1511 to make an appointment.

Program Eligibility & Requirements
To enroll in the Lafayette program, you must be at least 18 years old and not enrolled in high school. Our services are available free of charge, but there are certain requirements. Students are required to attend the program for at least six hours a week, though we encourage you to attend more often if you can. Students are also expected to conduct themselves in a professional, respectful manner. Finally, we ask that you bring a desire to learn and improve your skills.


If you are interested in more information about becoming a student with VITA's adult literacy program, please click here.


VITA: Lafayette
905 Jefferson Street Suite 404
Lafayette, LA 70501
Phone: (337) 234-4600
vita@vitalaf.org
FAX: 337-234-4672


---
| | | |
| --- | --- | --- |
| updated 6/23/2015 | (C) all rights reserved. VITA Literacy 2015 | |