A Festival of Words Fundraiser
Dear Writer,
We hope you are safe and well during a time of a pandemic and struggles for justice and peace.
During a difficult year, creative expression is more important than ever! The Festival of Words committee has sought an alternative fundraiser to Word Crawl. We are planning Words for You, a project of commissioned poems, stories and songs. Would you be willing to donate your time and skill to write
ONE
poem, story or song for Festival of Words?
Under this project, Festival supporters will have the opportunity to commission a work by a favorite author! You would be a perfect artist for this project because of your fine writing, and your appreciation for community, literature and Festival of Words (FoW).
Here's how it works:
· Writers volunteer to craft original works.
· From this group of volunteers, each patron choses a favorite writer to craft a poem, story or song. (July)
· Patron donates to FoW and fills out a questionnaire about themselves, which will serve as writing prompts.
· The writer receives the request, and creates a new work, based on the prompts. (July/Aug)
· Virtual performance of the poems, stories and songs. Date TBA (Aug or Sept.)
DONATIONS (donated by patron to FoW):
$50 (minimum) for one original work
$100 (minimum) for a poem by a current or former Poet Laureate
If you are interested in serving as a volunteer writer, please contact Martha at
fowmartha@gmail.com
or 337-804-2482 or Patrice at
festivalwords@gmail.com
; 337-254-9695.
Thanks for your support of Festival of Words!
Best,
Martha Garner, Executive Director
Festival of Words
________________________________________________
Master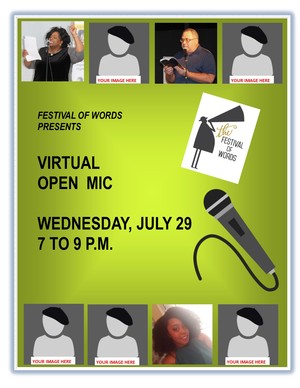 of Ceremonies is the charasmatic Jacqueline Lewis Langston
.
If you would like to participate,
contact Martha at
fowmartha@gmail.com
or
337-804-2482
.
This free, community event is suitable for all ages and is sponsored by the Festival of Words Cultural Arts Collective.
Donations can be made here:
https://festivalofwords.org/
_
We are looking for a few good volunteer board members! Festival of Words is a nonprofit dedicated to bringing literacy and literary events to St. Landry Parish.
We meet monthly in Lafayette to plan our Word Crawl fundraiser, monthly events, and our Festival of Words in November. If you are interested in being a part of our board, please send a brief email describing your experience and how you could contribute to our board to fowmartha@gmail.com. Thank you!
______________________________________________
PARTNERS: